WENO, CHUUK.  Kalvin Assito, Community Resource Development Agent (CRD).  Cooperative Extension Service
Chuuk CRE, for the first time, brought the community outreach programs to the remote islands of Satowan Atoll.  The island group is about 180 miles from Weno and has about 1,000 residents.  CRE agents provided 8 varieties of sweet potato to the traditional leader for multiplication and sharing.  These varieties were produced through climate change adaptation research in an effort to improve food security.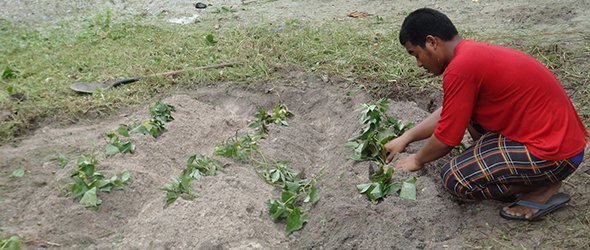 During the visit the CRE agents attended a meeting of the Municipal government leaders.  At that meeting the leaders reported their 2013 accomplishment reports and plans for 2014.  The CRE- Community Resource Development agent discussed 'livelihood training' in handicrafts, sewing, cooking and using local natural resources for food security.
The residents of Satowna, lead by Mayor Miaichy Assito expressed their appreciation and thanks to CRE.  They expressed the hope that CRE can soon offer all training programs for the benefit of Satowan and their neighboring islands.